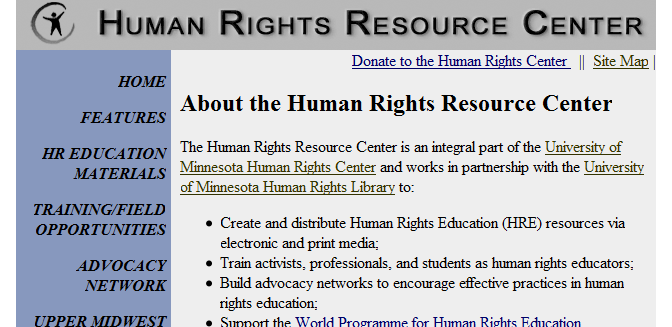 Human Rights Resource Center
University of Minnesota Human Rights Center
What did they need?
The Human Rights Resource Center at the University of Minnesota plays host to several other websites and organizations, each with individual needs. They support several international fellowship scholars each year, all of whom are required to document their experiences through various forms of multimedia. They also organize various workshops and act as a clearing house for job announcements, events, human rights documentaries, and materials.
What did I do?
I coordinated the maintenance of all related websites, collaborating with content providers, server administrators, and various stakeholders. I edited scripts to improve dynamic features of the websites, handle event registrations, and report on usage statistics. I increased the use of templating and server-side includes to help gain control and consistency over areas of the websites created by multiple contributors. I trained users in the creation and editing of video, audio, blogs, wikis, and other media. I edited and distributed videos. I served as first-contact hardware/software troubleshooting and support for a staff of 5-10 people, communicating directly with the institutional IT department.
Who did I work with?
I worked with staff, program coordinators, web content providers, university technology administrators, volunteers, and fellowship scholars.
What did I learn?
Having previously worked primarily on static HTML websites, this was an introduction-by-fire to PHP programming, and MySQL database connectivity and management.